Earlier this month, Joji received 6 free tickets to
Sea Side pool in Funenokagakukan (two stations away from Odaiba) courtesy of Sekine-san.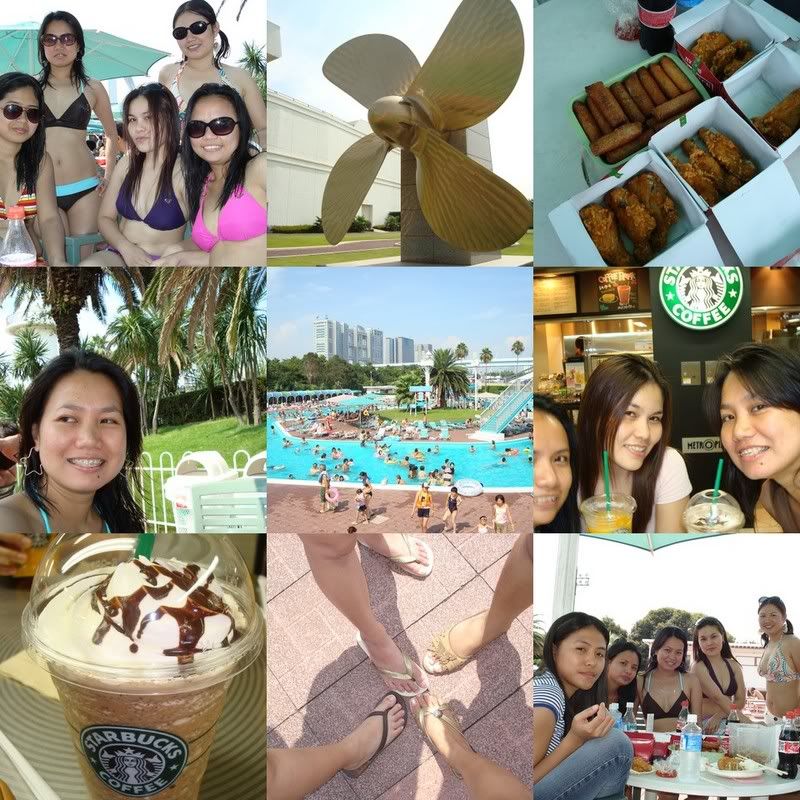 Earlier today: Things didn't go as planned because...(1.) i was late...gominasai..(2.) my assigned task was to buy chicken yet I bought only one for each person (contrary to Jhey's 2:1 instructions, hehe)..I asked Joji if the 1 chicken per head would be enough..she then said that I should buy another set [that makes 2 for each person..haha, kay mga dagku mi ug kaon!]. So, I went back to MiniStop to buy...therefore, consuming much of our time and resulting to delay..(3.) we got lost in Shimbashi Stn. *sigh* Though 30 mins. behind schedule, if not for those green public phones (in stations) -->the trip would not have been possible.
We arrived past 10am. As they say, "all is well that ends well"..

After 3 hours or so of camwhoring, quasi-swimming and eating, we went on to our separate ways. Fe took another train en route Kasairinkai Stn. After strolling Shimbashi, Janet and Jhey went somewhere..while Joji, Zelle and I went to Nihonbashi and window-shopped then end up in Starbucks after a futile search for Matsushita Dept. Store.
Now, I dedicate the remaining hours of this Saturday to Ugly Betty.