One of my objectives on my fleeting homecoming is to meet with friends. So, last Saturday evening, we met, dined and talked as if there's no tomorrow.
Meet two of my closest friends (since college), (L-R) Stella, full-time accountant in a private foreign-owned firm somewhere Lapu-Lapu City, and Eva, practicing accountant and soon to be big-time lawyer.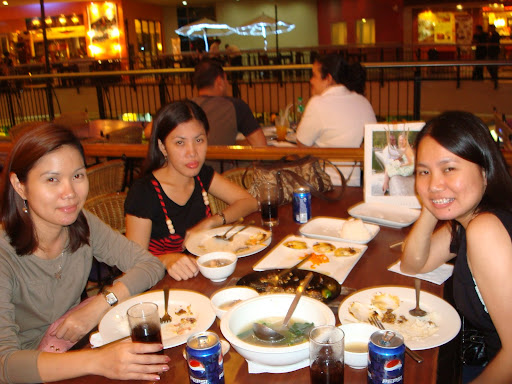 We dined at

Gerry's Grill

and I sooooo loved their sizzling sisig!
After dinner, we planned to go someplace where we can show-off our singing prowess (read: Videoke!), but on the last minute, instructed our taxi driver (while in Crossroads) to reroute us to

Paseo

(in Mabolo) since we were all curious about that 'it' place of the moment.

We were shocked (not in a traumatic way though) on how crowded the place was!! Later, we found out that they don't charge for entrance...so that explains the crowd.
Inspite of the crowd, we did manage to go inside, saw no vacant seats and did not bother to look futher for that deed alone was synonymous to wasting time. Most were in their teens so we kinda felt left out..LOL! In less than 20 minutes, we decided to save our precious lives from suffocation and be anywhere BUT there..asap! We concluded that Paseo cannot please our fancy or probably, it must be our age...I found out that we have gradually changed. Our idea of 'FUN' seems to have changed as our age progresses.
Since it was too early to call it a night, we collectively decided to head for

22nd Street

to get a dose of laughter from their resident comedians. The place was jam-packed with comic-lover crowd and with luck, we managed to find 'just the right' table (read: far from the comedy hosts, LOL. We don't want to fall victims of their jokes =P).